CNE Puppy Referral is the central source for information regarding breeders in the North Eastern United States who have, or are expecting litters of Cavalier puppies, as well as information on adolescent puppies and older dogs. Top quality, retired show dogs are sometimes available at minimal cost.
Chairperson: Francesca Gross (7177) 314-6257 or fgross@bluedaycavaliers.com
Co-Chairperson: Mary Warme (207) 825-3193 or Castlemainecavs@aol.com
Puppy Referral can provide a list of available puppies and adult dogs from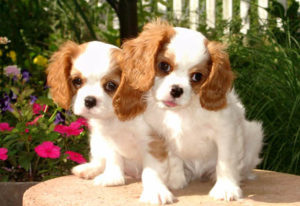 reputable breeders of Cavaliers in your local area. Please contact Mary or Anne for breeders' contact information and a list of puppies available in the Northeast Region. A document will be provided on how to select the best Cavalier for your family and general information on the temperament, health
and needs of a Cavalier.
Breeders with litters and/or individual Cavaliers are asked to submit
information regarding available puppies or adults to Mary Warme by
downloading the following MS Word document and emailing it to Mary.
PUPPY_REFERRAL_FORM